The global pandemic bought some unexpected growth, directing much of our development effort behind the scenes on scaling and stability, or specialist features for particular sectors we deal with. So it's nice to be able to talk about a new feature at the front-end for a change; and one that aids in the work people are doing with Cleanfeed Pro right now.
Recently we added the ability to select which tracks are included in a multitrack recording. Just select the 'dot' icon to toggle a track on/off in the recording.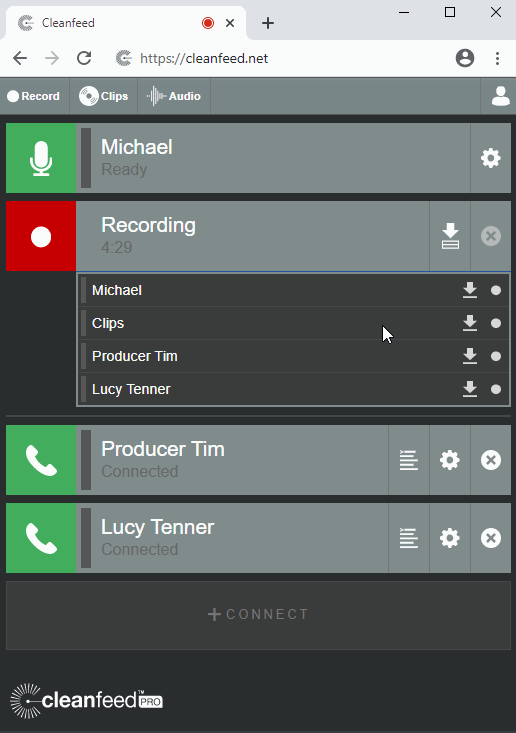 It's rather simple on the surface (rather more complex under-the hood!). But it solves several needs that are increased over the pandemic, with larger teams working remotely; including a number of major national broadcasters with requirements across news, quizzes, panel shows and drama.

When it comes to these sorts of productions, often there's more than just the host and co-hosts on the call. A director, producer, writer and others with an interest in the production might be in attendance. Sometimes quite a crowd!

When separate tracks are used, disk space requirements can increase quite dramatically. It can be extra burden to carry around these affected files unnecessarily.

So we've made it super easy to skip unnecessary extra files and disk space in your workflow. For many people, just removing the "Clips" is a useful saving if they aren't using it. See our guide for more information.

This feature is part of Cleanfeed Pro. Subscribing gets you extra features for professional workflows, and it helps to build a sustainable business that is letting so many charities, community radio stations and other good organisations get access to professional quality audio in the pandemic.