Whatever you want to call them! It's time to introduce a new feature to recording.
There's a risk when software has proven over a number and has its core functinality in place that it becomes over-burdened with an ever increasing number of new features, buttons, flashing lights and notifications.
As such, we approach new features rather judiciously and after a lot of communication and testing with users of Cleanfeed.
One such case is that of placing a marker in a recording so you know to return to it later. Journalists, podcasters and musicians have asked for this feature as it's often available on hardware recording devices — usually a simple button press to place a marker. Ever tried to search through a 45 minute interview to find something? Especially if you're doing that a day later, it's not always easy, or if you're passing that work on to an editor. You can transcript the audio too, but that doesn't capture sentiment at the moment you're looking for, either.
So placing a marker has huge merit, even in its simplest form. But it was clear these users wanted just a little more, especially when they're operating Cleanfeed with a tablet or computer screen that offers the option for more flexibility than a portable recorder.
And, in the same "swiss army knife" design that Cleanfeed has accomodated for a while, we don't want to clutter with features that are best done in post production, but markers are definitely something that must happen at recording time. So we want to do this in a distraction-free way and, instead, integrate neatly with whatever your chosen post-production workflow is.
Introducing markers
See our guide for using the markers to get started.
Markers are available in any multitrack recording. Markers need to be relative to a recording (which may have its own start time or pauses in the recording) so accomodating them closely alongside in the same Zip file bundle is the logical choice.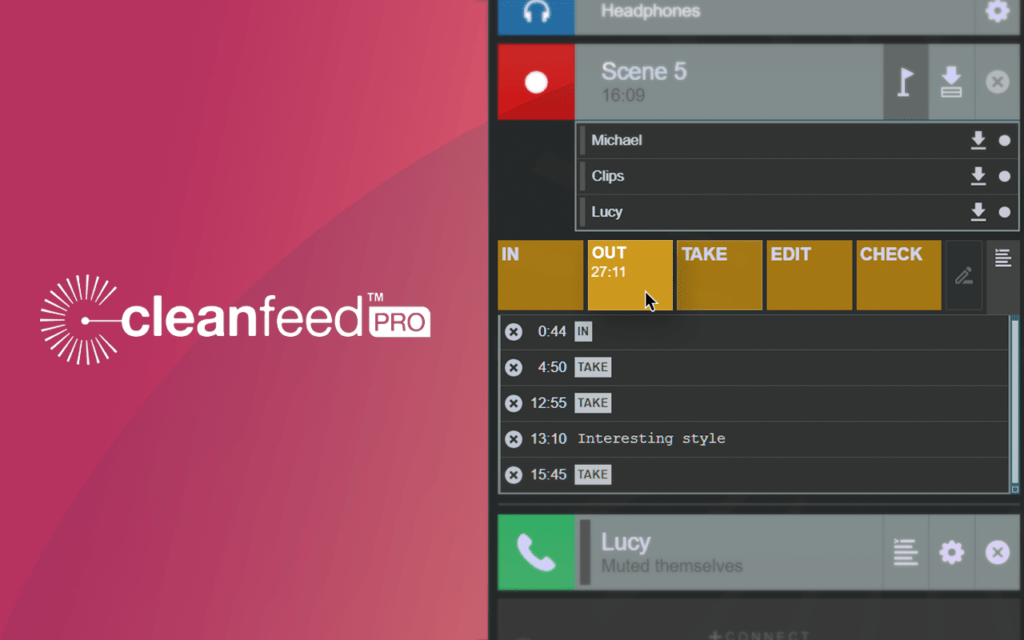 Named markers with presets
So what's the "little more" here? Other applications focus on a single 'mark' at a particular timecode. And whilst you can use our markers just like this, it's so much more powerful.
There are 5 categories of pre-set markers (you can drag them around or change the name with a press-and-old). Handy for labelling different events in your recording, and with no pressure to use them all. We're already seeing people use these in different ways; either for specific events that you know will happen during recording (such as a new take, or a particular rehersal in a music tuition session) or for sentiment around what should be retained in the edit or not which you or your editor will see.
Finally, if one of the presets doesn't apply, just hit the "note" icon and leave any note you want!
Supported applications
We explored different options for getting the markers into commonly-used applications. Initially, embedding in the WAVE file was thought to be a good approach, but increasingly this did not turn out in practice and we decided that a separate file gave the clearest workflow.
Today you can import the markers into Audacity and Hindenburg (a great editor for spoken word such as podcasts and interviews, worth checking out if you haven't.)
Soon we'll expand that to cover other popular editors. If there's a particular one you'd like to see supported then let us know.
That's a quick introduction to the new markers feature in Cleanfeed. We're always interested in your feedback and feature ideas, find the contact information on the cleanfeed.net site.