Learn how a small community theatre group used Cleanfeed to record a play with their remote actors. We caught up with Jim Park, front-of-house sound engineer for Thorold Community Theatre, who explains how "And Then the Lights Went Out" came together.
Jim, thanks for joining us. Who are you and who do you work for?
Hi I'm Jim Park, front-of-house engineer for a small theatre group called Thorold Community Theatre. We're located in Thorold, Ontario, Canada, which is really close to Niagara Falls. Nobody has ever heard of Thorold, but almost everyone knows where Niagara Falls is.
Tell us more about the group, the play and how you found Cleanfeed?
The group produces two stage plays each year with volunteer casts and crews. Last year, as we were about to open our Spring 2020 show, the pandemic hit and we were thrown into lockdown. We have been in and out of lockdown ever since and haven't produced another play… until now. I'm proud to say that we have just released our first audio production, which was recorded entirely with Cleanfeed.
The play "And Then the Lights Went Out" by Vancouver based playwright Andy Garland, was to have been our Spring 2021 production. Due to the uncertainty of being able to perform in front of a live audience, out director, Deb Howey, approached Mr. Garland with the idea of turning the script into a radio play. Mr. Garland was so enthused with the idea, he rewrote the script to include a new character, The Narrator, to help fill in the gaps left by the lack of visuals.
As I usually do front-of-house sound for the group, it felt appropriate for me to figure put how to make this work as a remote audio-only effort, after plans to do a live ensemble recording fell though.
After reading one of your blog posts, The (Audio) Show Must Go On, describing how students at the London Academy of Music & Dramatic Art and the Antaeus Actors Theater has used Cleanfeed for remote recording of their audio plays, I thought that might be something we could try. I have some experience in audio production (probably just enough to make me dangerous) so I started reading up on how to do it.
What was your biggest challenge working with a remote team?
My biggest concern was working with nine self-admitted technology-challenged actors recording remotely from their bedrooms and basements.
We succeeded in getting the recording environments tuned fairly well and taming most of the room echo. Using Cleanfeed proved the easiest part at all! There were a few setup issues to figure out with the settings, etc. but nothing we couldn't overcome.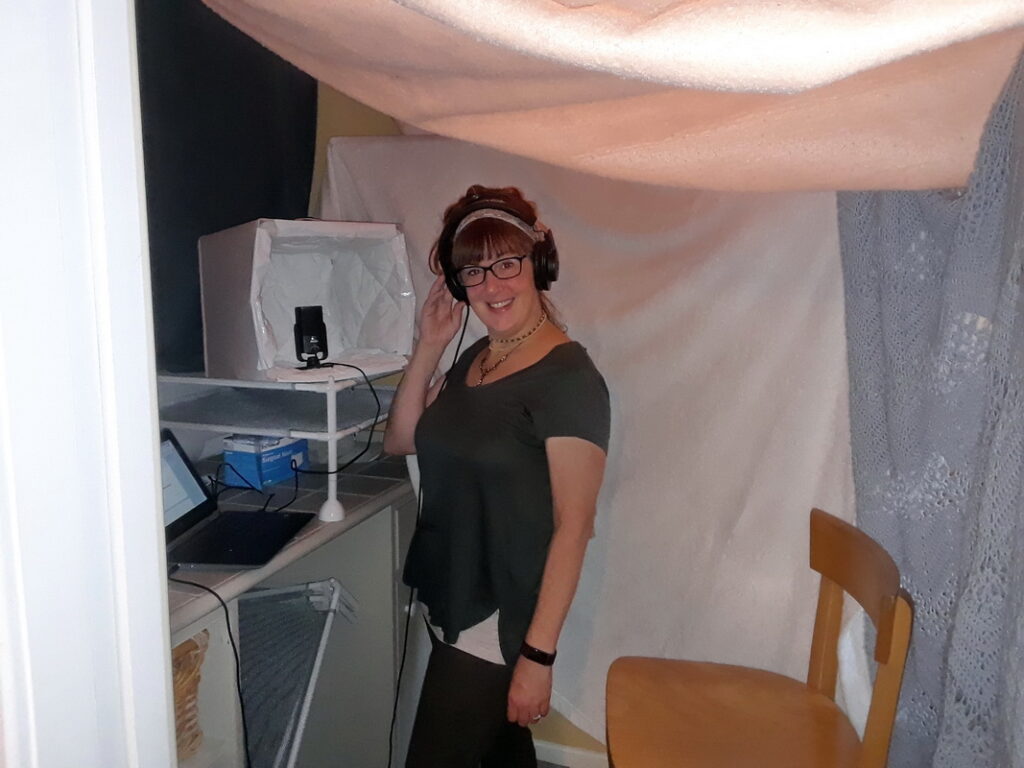 How did Cleanfeed help?
I use Cleanfeed Pro to produce podcasts, so I didn't think it would be a stretch to use it to record this radio play. Even with 11 people dialed in, including me and the director, it was super stable.
Because Cleanfeed made remote recording possible, we are now planning a series of radio plays. Interestingly, because productions of this nature don't require sets and a physical presence on stage, it allowed a "former" long-time cast member who is now confined to a wheelchairs to reignite his passion for acting.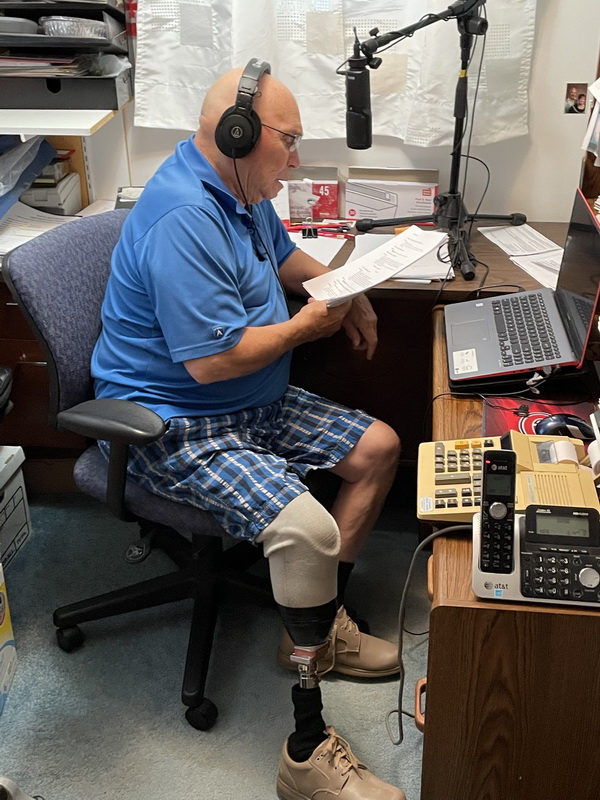 It would be rude not to ask! What kit did you use?
We recorded the whole show using Rode USB microphones sitting inside 12-inch x 12-inch collapsible storage boxes lined with strips of quilted fabric cut from an old mattress pad. The actors cocooned themselves in DIY sound booths made from quilts and blankets.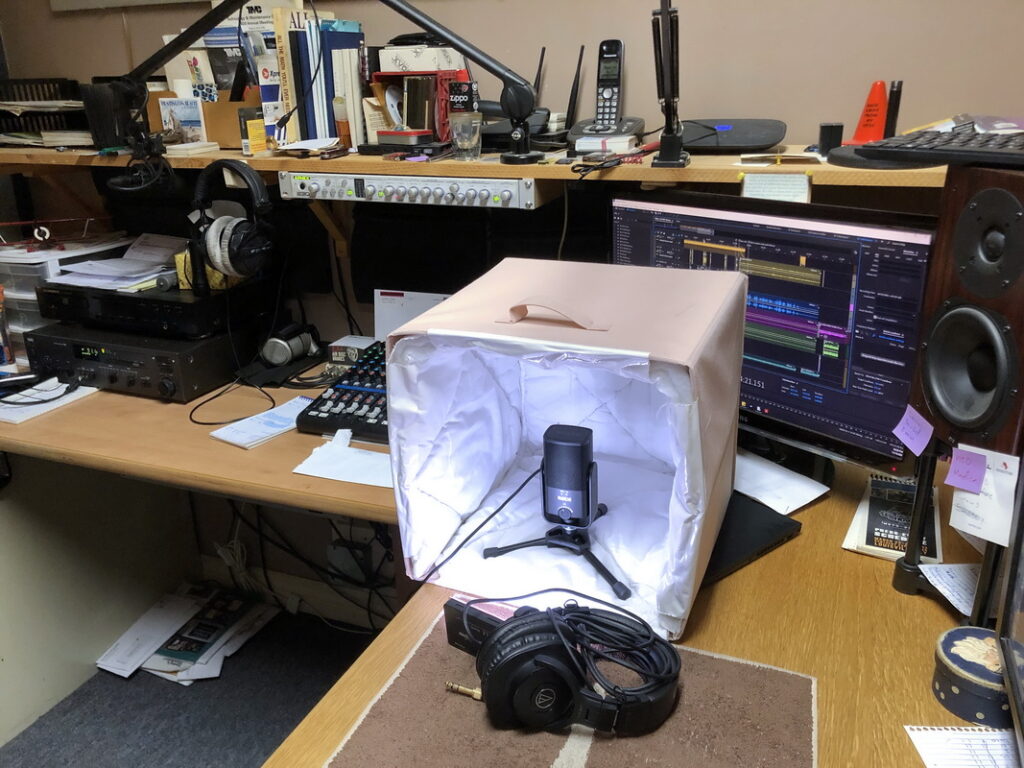 None of the cast had any experience with microphones or voice acting, but with a little coaching, they aced their roles. Each one of them described it as a very satisfying experience and said they can't wait to try it again.
What are your future plans?
We are certainly going to do this again. We are thinking about soliciting unpublished scripts from local playwrights, one-act plays with smaller casts, and developing a podcast series. This is an ideal medium for work-shopping new plays. We're also reaching out to local actors with disabilities and retired actors to gauge their interest in audio-only productions. And of course we'll continue to use Cleanfeed for remote recording.
So, a big thank-you to Cleanfeed for making this possible, in the first place, and even easy once we sorted out the little technical hurdles.
Where can we find the production?
We have a few short preview clips from our production of "And Then the Lights Went Out", if you're curious. There's link to the full production there, too.