Audio post-production for most feature films and television shows requires time spent on Automated Dialogue Replacement (ADR), even when the cast has moved on to other projects in other locations. However, Lew Goldstein, owner of New York City's Parabolic, is not concerned because he has access to Emmy Award-winning Cleanfeed – the perfect tool to record high quality audio, in real time, from anyone and from anywhere in the world.
"Cleanfeed is a huge asset to us," Lew says. "Since we started working with the software in 2020, we have used it to recorded over 2,800 hours of audio. By becoming fluent in how to use Cleanfeed for remote recording we have developed new workflows that are incredibly valuable because they are so fast, reliable and straightforward."
As the founder of Manhattan-based facility Parabolic, Lew Goldstein is a Supervising Sound Editor and Re-Recording Mixer. He began his career in Los Angeles before moving to New York where he worked as a sound editor at various post facilities. During those years he would edit at one facility, record foley at another and tackle ADR and mixing somewhere else. The solution was to build his own studios and in 2011 he opened Parabolic as a full-service audio post-production facility for film and television.
Parabolic has two Dolby-Certified mix rooms, an ADR stage, Foley pits and suites for sound editing. In recent months has been responsible for handling audio post-production for The Other Two, Emily in Paris and Russian Doll, You Hurt My Feelings, Shotgun Wedding, and In The Heights, to name a few.

Parabolic's introduction to Cleanfeed's live audio recording solution came at the start of the COVID pandemic when the facility went into lockdown.
"We were in the beginning of a project for Netflix and it basically stopped," Lew explains. "I figured if we could find out a good way of working remotely with clients easily, they would continue the project, especially the recording, so I spent some weeks doing a tremendous amount of experimenting with many different remote audio software, and failing to find anything that was easy to use and technically advanced enough before realizing that the best one for us was Cleanfeed."
Built from the ground up for live radio and audio production, Cleanfeed delivers broadcast quality sound without delays, dropouts or interference. In addition, it is straightforward to install, user-friendly, and quickly sharable via a web browser. For Parabolic it was perfect, especially for loop group recordings that would normally involve a number of actors being present in the studio at the same time – something COVID made impossible.
"With a loop group recording, actors are asked to simulate the conversations that would normally take place at a party or during a restaurant scene," Lew explains. "When you shoot that type of scene, the people at the party or in the restaurant don't make any sound whatsoever. The audio is added later. Loop group allows us to add specific voices and textures to the film or TV show, giving it much more authenticity."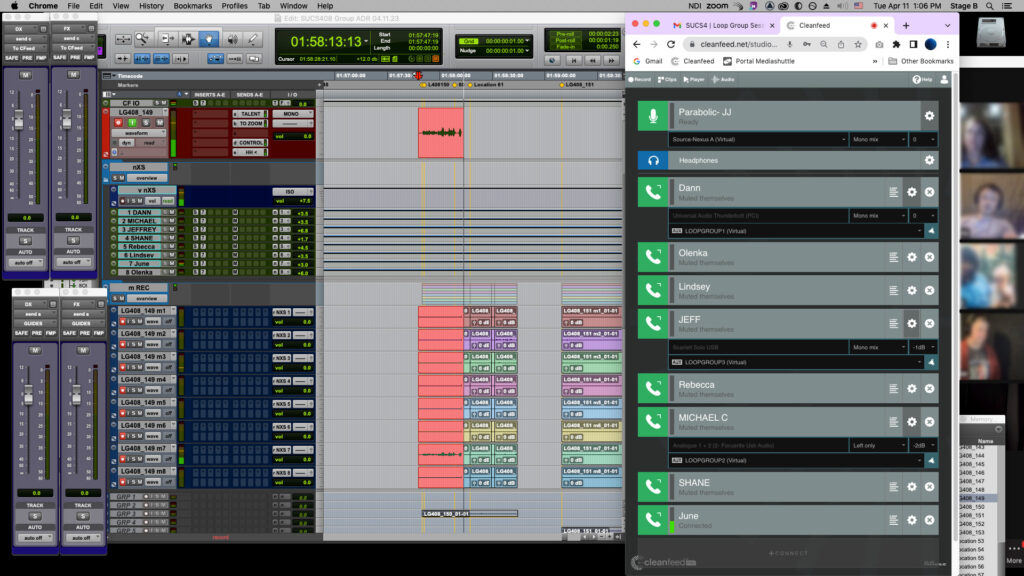 As loop group recordings were definitely off the cards during the pandemic, Parabolic had to find a way to record each actor individually and remotely from different locations.
"We tried lots of things," he shared, "but until we came across Cleanfeed we couldn't find a way of extending this out to more than one person. Cleanfeed offered us a viable solution because it got round the issues we were having with delays and how to get the audio into our Pro Tools recording system. A lot of the software we experimented with tried to be all-in-one solutions, which we didn't want. We needed a collaborative solution that delivered the high quality audio a professional facility such as ours needs. Cleanfeed made that possible."
Lew adds that being able to access Cleanfeed via a web browser made it easy for the actors to connect to the studio.
"Its simplicity meant that actors had no trouble connecting and we also came up with a very straightforward method for feeding audio into Pro Tools. Cleanfeed certainly offered a lot of possibilities and therefore we were able to utilize it in a multitude of ways. The more we used it, the more we relied on it and the more interesting configurations we came up with for both loop group recording and individual actor recordings."
To facilitate remote projects, Parabolic invested in 50 remote recording kits, each consisting of two high quality microphones, an audio interface and a small laptop. These were sent out to actors all over the world.
"We can get these kits out to actors quickly and all of them operate with Cleanfeed. They are very easy for the actors to set up and require no technical knowledge to operate because the actual recording takes place at Parabolic. All the actor has to do is log the laptop onto their own WiFi and plug in the mics. Our staff are very experienced and can advise the actors on the best place to set up in their own homes. They might start out in a room that is acoustically terrible but because we hear everything in real time through Cleanfeed – and because the kits are simple enough and small enough to move – it is easy to find the right environment and get the best possible sound."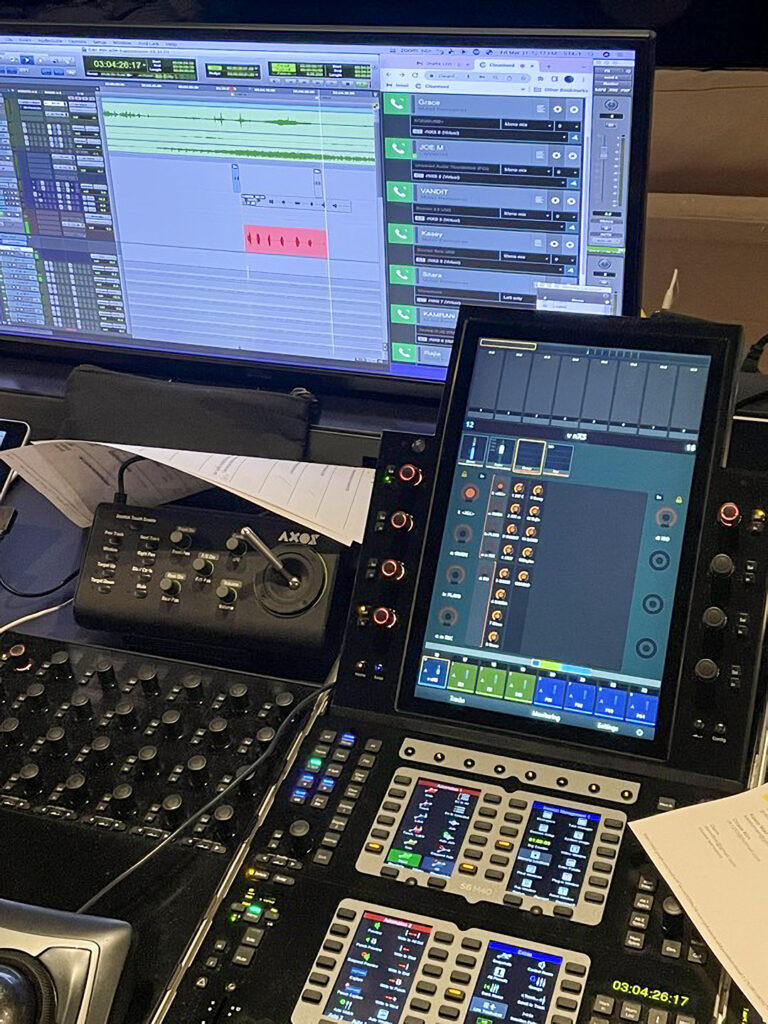 Another methodology that Parabolic has developed is the use of multiple Cleanfeed sessions running simultaneously. By doing this, Parabolic can separate the actors from observers such as the producers, directors and anyone else who needed to participate during the recording.
"Often observers don't understand that if they talk over the actor while he or she is reciting their lines it gets recorded with them," he explains. "By using two Cleanfeed sessions simultaneously, we are able to keep the talent and observers completely separate. We can record the actors' lines cleanly, yet still have the observers contributing to the process. Cleanfeed's accessibility, and the fact that it is such a straightforward software to use, makes this entirely possible. If you need another session, you just open another Cleanfeed."
With life returning to normal after the pandemic, one might imagine that the need for remote recording has fallen away, but Lew Goldstein says this is not the case – actors have become used to working from home and want the option of still being able to do that.
"The pandemic has drastically changed the whole work environment, and sometimes people don't want to come into the studio – or at least want to do parts of the project at home before they come in," he explains. "There could be a number of reasons someone might not want to come into the studio, whether they're trying to reduce their amount of travel, or have other commitments that would make coming in difficult. There are surprising benefits brought about by the technology introduced during the pandemic and I think some of these will linger for quite a while. People will eventually find a nice balance between in-person and remote work, and solutions like Cleanfeed will help facilitate that."
As someone with a huge amount of experience as a re-recording mixer, Lew Goldstein is also thrilled by the creative possibilities Cleanfeed delivers, especially when he is working with loop groups.
"Recording loop groups remotely has its advantages because we can record all the actors simultaneously, yet discretely. Cleanfeed allows us to record everyone on a separate track, which is a tremendous advantage as it gives me many more options at the mix stage. When you put a bunch of actors in one room with one microphone you are locked into what that microphone captures. Having separate tracks to work with means I can position the audio differently by editing and sometimes even totally eliminate different voices."
Cleanfeed is now opening up new possibilities for Parabolic, particularly at the review stage of a project when producers and creative teams in many different locations all want to take part in live reviews.
"We have learned how to use Cleanfeed so well, yet we are still finding new ways of integrating it into our workflows and processes," Lew says. "It's very exciting and valuable as it allows us to offer added benefits to our clients."
Find more information about Parabolic, their services and the work they do at: https://www.parabolicny.com/