I recently had the privilege of speaking with Marcus dePaula. Marcus, from Me Only Louder, has an astonishing career which has contributed extensively to his podcast production company that he runs today. We caught up about his live audio engineering days, his thoughts about the podcasting industry, an insight into his workflow and how he is helping producers all around the world with his new venture; Podcast Creators Lab.
How did you start out in audio and what led you to become a podcast producer?
I could not have dreamed of the podcast production work I now get to do back when I first began my career as an audio engineer in 1996 as a 21-year-old college dropout. Three years pursuing a music degree at Belmont University in Nashville (Tennessee) was enough for me to see I didn't have what it takes to be a professional musician, but it was also what set me up to spend a decade mixing and touring for acts like Over the Rhine (1998), Jars of Clay (2001), Creed (2002), Michelle Branch (2003), and Amy Grant (2004) among dozens of others.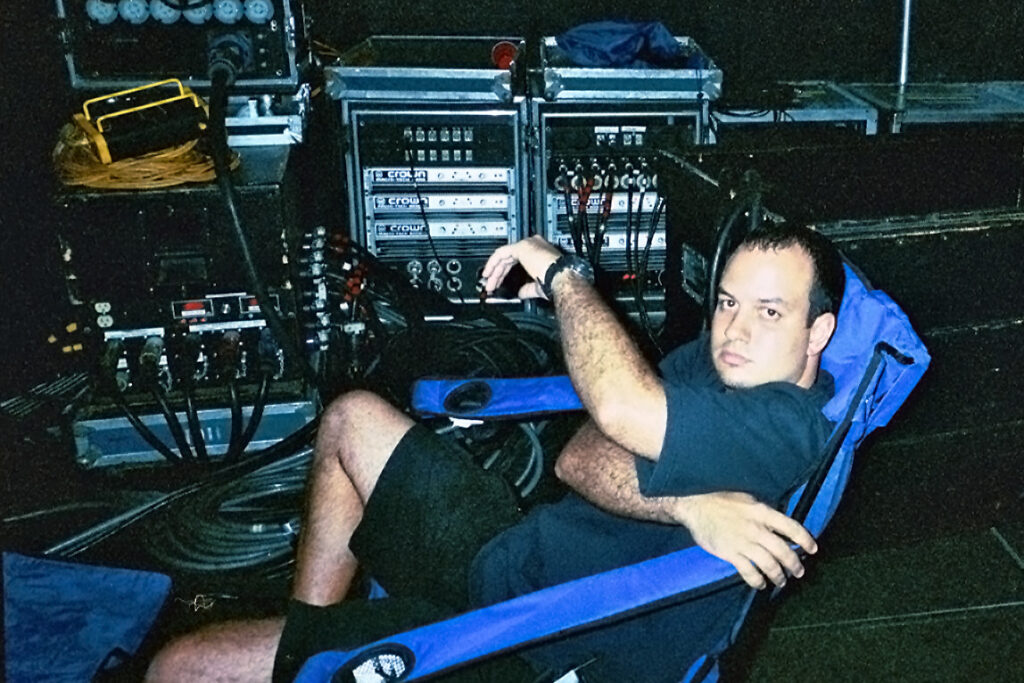 My years in sound reinforcement, eventually working for Clair Global, followed by years of doing professional recording studio installations in and around Nashville after 'retiring' from the road, gave me a unique approach to the podcast production and consulting I now do as my fourth career.
Podcasting kind of fell in my lap when Blair Enns and David C. Baker of the 2Bobs podcast asked for my help after years of me running sound for their private seminar and training events. My phone then started to ring with listeners of their podcast asking to hire me to help them start their own podcast.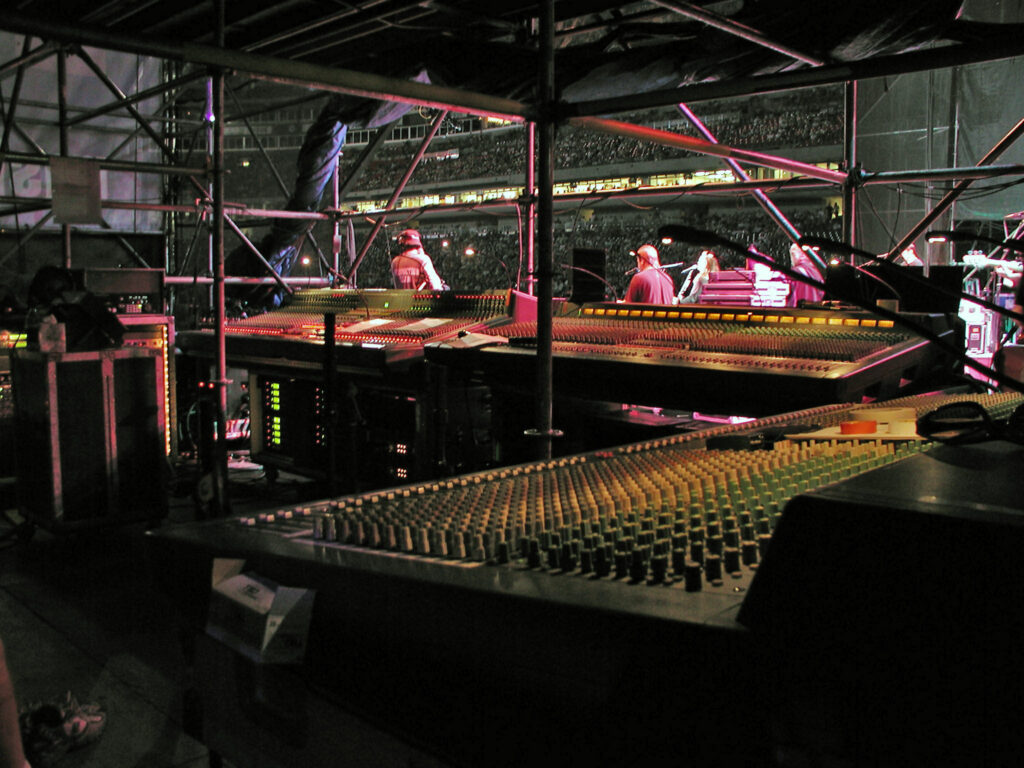 ---
Podcasting has exploded as a medium, drawing lots of talent as well as investors and advertisers in the past few years. What have you experienced as a producer in this field?
I'm really grateful to be able to return back to my primary passion of audio in my daily work. The podcasting space is growing so quickly, and it only officially began as a medium in 2004. That, paired with the fact that as a creative industry it is by nature decentralized, seems to have prevented the type of apprenticeship opportunities other audio industries have developed over the decades. This has resulted in what I think is an overall low bar in audio quality across the medium, which I would love to help fix, if I can.
The technology has gotten so good at not just helping listeners access the content, but more affordable hardware and software has also helped new podcasters get their audio content created and published online. My goal is to use my 26+ years of audio engineering experience and passion for teaching to help podcasters provide the best listening experience possible for their followers by showing them how to use more advanced recording techniques and post-production effects processing. This is why I'm building the Podcast Audio Lab, which will hopefully help raise the bar in audio quality for podcasts.
How does podcast production compare to the work you did in the music industry?
Well, when it comes to helping podcasters set up a recording environment and then the recording process itself, it is considerably easier for podcasting than music. First of all, there are a lot fewer inputs! But when it comes to studio setup, in my experience, it's more about baffling to improve room acoustics than it is isolation or "sound proofing". Podcasters don't have to worry about bothering their neighbors with drums played at ungodly hours of the night. And if an airplane or siren goes by, it's just a matter of pausing the discussion and editing that out in post.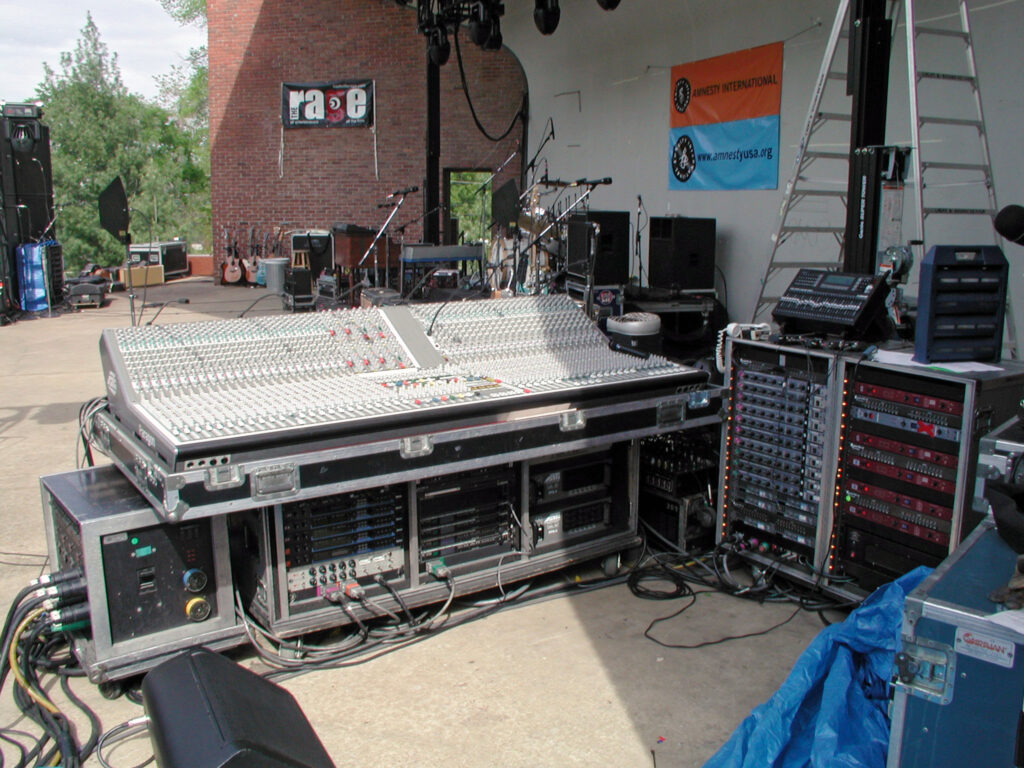 But good microphone selection and technique is universal. And that's one of the main problems I see and hear. The vast majority of podcasters are simply too far away from their condenser (instead of dynamic) microphones, which allows more room noise and reverberance to be captured on their recordings relative to their voice.
I have also brought what I've learned working with music over to podcasting where I use multiple layers of compression, equalization (EQ) and limiting on each track as well as the master bus, which I don't see many other podcasters do. I also don't see many podcasters doing the extra step of "mastering" the final audio file, which helps me nail the recommended loudness of -16LUFS with a peak of -1dB.
What are your favourite tools that you use for audio production?
As far as hardware, my favorite mics are the Shure SM7B (with the high boost filter on and low cut filter off) and the new Earthworks ETHOS. I plug them into my Sound Devices MixPre-6 II, which not only has some of the best sounding preamps on the planet, but also allows me to record in 32 bit float and without a computer, if everyone is in the same room with me.
When my clients and their guests are NOT in the same room with me, Cleanfeed is still my favorite way to record. It's not enough to just provide great audio quality. Same goes for the services I provide. For me, it's about being totally reliable and providing a consistent, pleasurable experience that comes from a unique perspective. This is what I try to bring to my clients shows and it's what I feel you all at Cleanfeed do for me, my clients, and my guests. The main reason I've enjoyed spending so much time chatting with you is our shared passion for audio itself.
When my clients and their guests are NOT in the same room with me, Cleanfeed is still my favorite way to record.
One thing that many podcasters and services don't consider is how the experience and quality of the conversation itself can be affected by the quality of the stream. My least favorite tools are the ones that distract hosts and guests repeatedly from what they are communicating due to significant lag or delay. It's really hard to carry on a conversation when you have to wait three seconds for your guest to respond. Flow and energy in the conversation is just as important as audio quality. Yes, it can be fixed in post, but the end product still suffers.
Speaking of post-production, my favorite DAW right now is Logic Pro. And I use a Contour ShuttlePROv2 with custom button mappings to speed up my editing, which works great for me in any DAW. I do a decent amount of what I like to call "audio optimization" to each track's source file in iZotope's RX 9 Advanced with Voice De-noise, Mouth De-click, Phase Rotation, and Normalization before editing and mixing in Logic.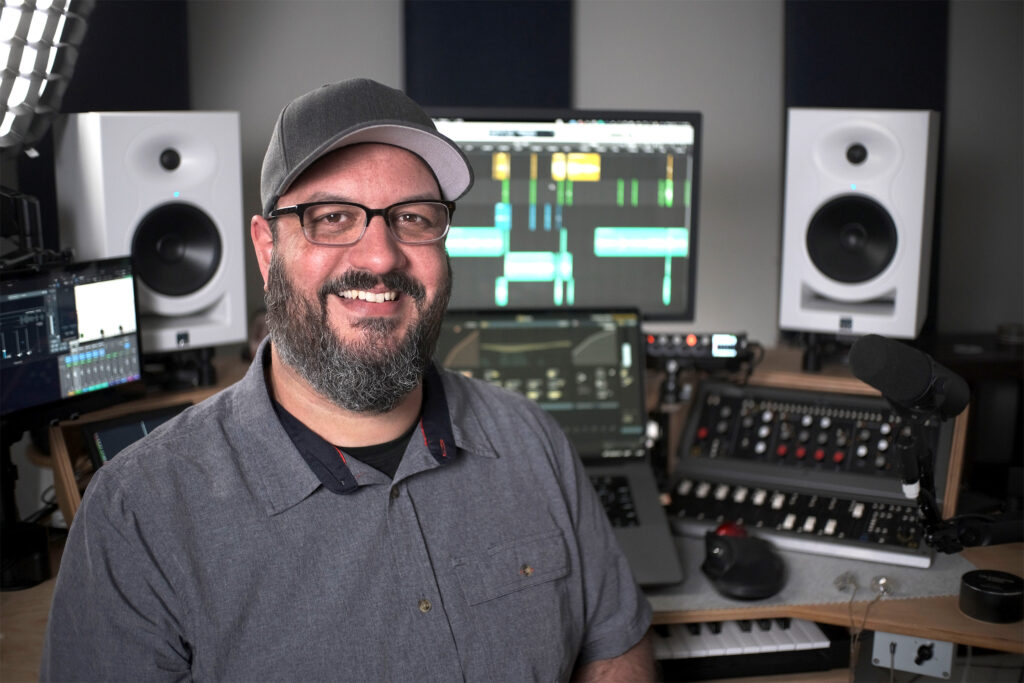 "Pre-processing" the individual WAV files saves me time in mix, helping me achieve a consistent loudness between tracks with less compression and limiting. For effects, my go-to plugins are Console 1 for compression and EQ, Weiss De-ess, and Weiss MM-1 Maximizer by Softube. Coming from the analog days of audio, it helps me to have physical knobs to turn on my Console 1 controller, and to my ear, Softube makes the best sounding analog emulated effects of any that I've tried.
For monitoring, I have invested in some Ultimate Ears UE18+ Pro custom in-ear monitors, which I became a fan of while working in live sound and traveling. As far as I'm concerned, you can't beat the comfort or audio fidelity – if you can afford them! I'm currently wanting to upgrade my near-field monitors, which are Kali LP-6's.
Do you have any advice for podcasters or audio professionals who might consider working in podcast production?
You'll hear a lot of people say not to obsess about what mic to use or the gear you have. What I wish I heard more of is how important it is to understand digital audio and the recording process itself, regardless of what equipment you have. Instant gratification is the driving factor in everything these days, and we need to keep in mind that it takes time to develop the skills necessary to do something in less time that is actually good.
One of the most overlooked skills to me is communication. Not just "on mic" as a host or guest, but also when it comes to preproduction. The better prepared, both from a content and a technical standpoint, I can help my clients and their guests be, the better the podcast will be for their listeners and the happier they will be as my clients.
The other frustrating advice I hear is, "Just start recording and publish it! Don't wait until 'you're ready.'" I do struggle with perfectionism myself, which prevents me from being as prolific as I would like on YouTube and my blog. And we do all in fact need to start somewhere. But I would like to help podcasters consider their production process before pressing record. There are so many seemingly insignificant details throughout each step of the preproduction, recording and post-production processes that in and of themselves don't seem like they are worth worrying about. But when all of those micro decisions and details are added together, that is what ends up creating an amazing listening experience we are eager to tell our friends about. And it's what will help set our show apart from the ever-increasing number of podcasts that sound "fine."
I wish there was one tool or a single button I could push to help me make great sounding audio content as quickly as possible. Though I have learned that there are no shortcuts to quality audio. It requires developing a reliable and repeatable process based on our awareness and understanding of sound and the tools we use to capture and process it. I am continually developing my own unique production process, which started about 25 years ago as I learned how to prepare my sound system for a tour. That preparation process and then refining the set-up and tear-down process on a different stage each day is what allowed us to entertain and provide unique memorable experiences for thousands of people in different cities around the world every night. I now do something similar as I refine my weekly podcast production and training processes. I am trying my best to share what I have learned based on my own experiences in case it can be helpful to other audio professionals, so you are welcome to join me on Twitter and in the Podcast Creators Lab.